[back to InetPix] [north to Alaska][Just the pix]
Alaska Trip
Week 4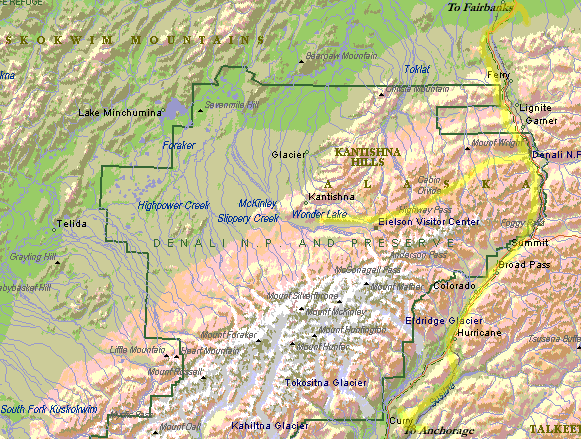 Denali
Denali is managed differently than most parks in a couple of regards: the park road is for the most part closed to passenger vehicles and there are almost no official trails. These restrictions make for a park with much more "wild" wildlife, but one which is a little more complicated to get around.
Because of the lack of information on trails, we opted to stay at a campground in Denali, rather than get backcountry permits and do any distance backpacking. From what we saw this was probably a wise choice for a first time visitor, especially given the initial poor weather.
Our campground was at Wonder Lake, 90 miles in on the park road. The trip must be made on park buses, and it takes 5 and a half hours. This sounds like a long time, but the views from the bus are great and there are a large number of wildlife viewing (caribou, moose)opportunities and rest stops factored into this. The time went by quickly.
The terrain in these parts is tundra (and pretty wet near us). A large component of the brush growing was actually blueberries and they were ripe. Improves the oatmeal.
They are pretty strict about bears here. We saw some grizzlies from a distance, but others we spoke with saw them crossing the road from the bus, so they are definitely about.
Mt. McKinley
The 20,000 ft. peak is located in the park, but the majority of park visitors do not see it because of poor visibility (the visitor center maintains a calendar of visibility) This is the result of the weather McKinley makes for itself, wet.
Our trip was no exception. The rain was not particularly hard, but steady and soaking. Fortunately there were a few clear spells in the evening our second day, and then in the mornings of the third and fourth days the weather was practically clear and we got a great view.
Pack six tourists into a single engine plane and fly up as close as you can to a big mountain!
I got to sit up next to the pilot. Even had my own steering wheel (didn't use it).
It was interesting having been in the park and seen the mountains and surrounding area to then look at it from above. You could really see how the effect of the glaciers and their riverlike qualities.
Oddest sight of the week: the giant igloo along George Parks Highway south of Denali.