[back to InetPix] [north to Alaska][Just the pix]
Alaska Trip
Week 7 and 8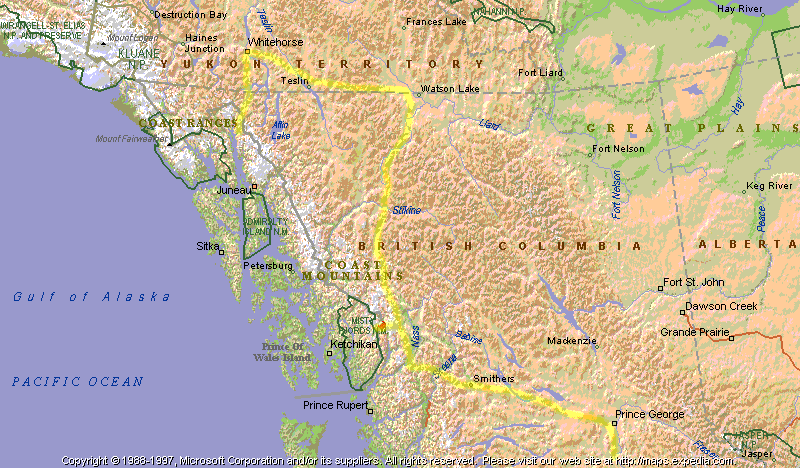 Whitehorse
Coming back from Skagway we picked up Burgie from the Kennel and spent our third (non-consecutive) night in Whitehorse.
Dease Lake (Cassiar Highway)
The Cassiar Highway provided a different route back through British Columbia than we took up. It proved to be more scenic with more mountains as well as wildlife. We saw several black bear crossing the road as well as a porcupine.
Dease Lake's main attraction is that it is the "largest" city on the 450 mile long Cassiar Highway (and it's pretty tiny, with two motels and two gas stations).
Hyder AK and Stewart BC
We continue to Hyder Alaska. The main draw here is the salmon run up Fish Creek, and the bald eagles and bear which feed on them. The stench of dead fish is pretty overwhelming near the creek viewing area. The bears only seem interested in the live salmon and then only seem to eat the head and intestine, leaving the rest behind. The creek was quite full of dead fish, with an occasional live one swimming through them.
Above Fish Creek is the Salmon River and then the Salmon Glacier. You drive up a small dirt road past various abandoned mines to get here, but the view of this glacier is pretty neat. (it's the 5th largest in Canada according to some brocure).
This shot seems to capture the feel of most Alaska small towns, Hyder being fairly representative.
Vanderhoof, BC (Yellowhead Highway)
Turning on to the Yellowhead Highway we continue on our journey home. We stopped at the "Opal Beds" near Burns Lake and actually found a few fragments of opal. (For Simpson fans, it is interesting to note that Smithers, BC is just up the road from Burns Lake).
Hope, BC (Fraser Valley)
We hurried through the BC interior to the Fraser River valley. A good portion of this drive is through the canyon carved by the Fraser River. Hell's Gate is a narrow point in the canyon which proved troublesome for early explorers of the area. Now it is a tourist attraction with an "Air Tram".
After a landslide caused by railroad construction the river also became impassable for salmon here. In the 40's special fish byways were constructed.
Also in this area is an abandoned auto bridge over the river, which is still crossable by foot traffic, Burgie refused to cross, given her paws would fit through the grating.
Another stop in this area is the Coquihalla Canyon Park. Here some abandoned railway tunnels provide an interesting short hike.
Seattle
The drive from Hope to Seattle was fairly short. We visited Heather's family and too the nephews to the Seattle zoo. Managed to work in a stop at the Redhook brewery.
Yreka
520 miles from Seattle to Yreka, our longest single day of driving. Last stop before home! The goldminer and mule from Yreka show us their backside.