Jeff and Heather's Southern Hemisphere Tour 2003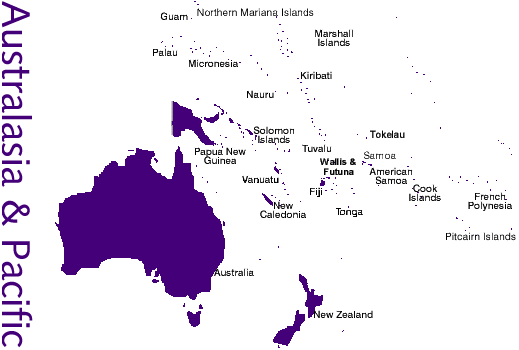 click to see the Lonely Planet guide to Australasia


North Island of New Zealand

click on the map for more detail of the North Island and our driving route.


Auckland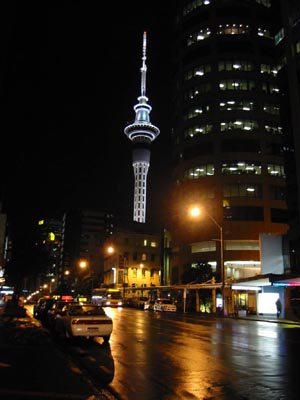 We arrive in Auckland on Air New Zealand after a 12 hour direct flight from LA. Since you cross the International Date Line, leaving on Wednesday afternoon gets you there late Thursday night.

The customs forms indicate an interest in our interactions with farm animals and since we'd been to the Santa Clara County Fair the previous week we had to check the yes box.

They seemed more interested in our hiking boots which were taken off and wetted down with some unknown substance, before being returned to us.

Our rental "Ka" proved to be ridiculously small. The Ford Ka is not the same size as an Escort and don't let anyone tell you it is. We exchnaged this the next day for a Toyota, whose trunk was at least capable of holding a couple of our suitcases.

Parnell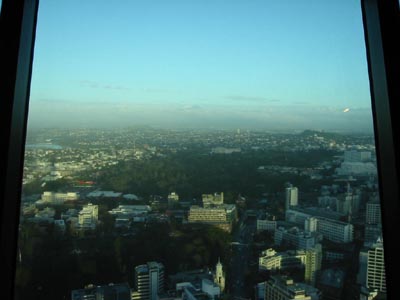 Parnell is a suburb of Auckland about 2km from the city center. With Parnell Rd. being the main drag. We stayed at the Parnell Village Inn which was at the top of Parnell Rd.

Sky Tower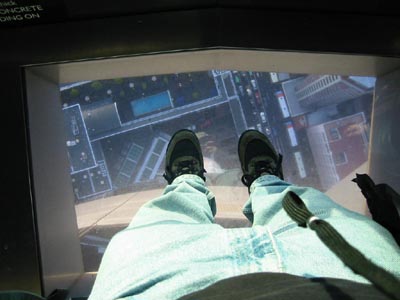 The Sky Tower is in the center of town and for a fee offers great views across Auckland and the surrounding islands. A variant of bungee jumping is also offered off the tower, but we chose to pass. The SkyCity complex also houses a number of restaurants and a casino with table games. We were able to find NZ$ 10 tables and played a few hands. Jeff lost NZ$ 50, but Heather won NZ$40 so it was practically a wash.

Rangitoto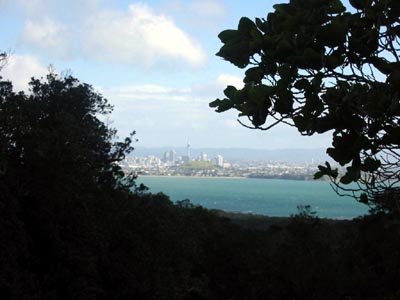 The most recent volcano in the Auckland area, Rangitoto, is a short ferry ride from the main harbor. The harbor also happens to be the location of Hewlett-Packard House. Although I had my badge, we didn't try to go in.

We hiked to the top of the volcanic cone and got some good views back towards Auckland. Since there was only one more ferry back, and there are no facilities on the island, we had to keep close track of time to ensure we didn't turn our visit into an unexpected camping trip.


Hot Water Beach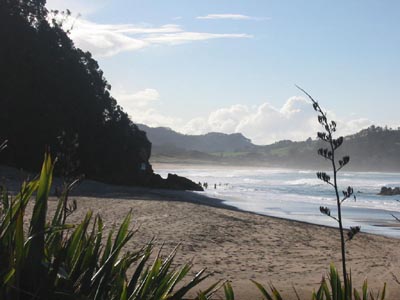 Hot Sand Beach is a couple of hours outside of Auckland on the eastern coast. The draw here is hot springs under the sand which you can dig to during low tide. Not clear on the tide thing, we arrived four hours short of low tide. We killed a couple of hours at the Purangi Winery, where they make wine out of any fruit they can get their hands on. Returning we found that you could simply dig your feet into the sand at the right spot and scald yourself pretty well.


Rotorua
The Rotorua area is the home of all things geothermal. There are several parks with various natural wonders. And most hotels have natural hot tubs of some sort. There is a lingering odor of sulfur


Wai-O-Tapu
"Soapin' the geyser," if you know what I mean... A park attendant helps the Lady Knox Geyser erupt at her scheduled time, 10:15 AM, every day. A bag of soap flakes poured into the mouth of the geyser breaks the surface tension of the underground pool of water and an eruption occurs within minutes.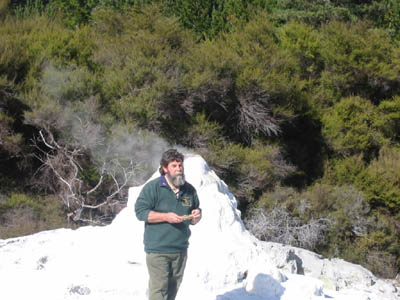 Geysers, mud, colored pools, a geothermal wonderland!


Click on the eruption photo for detail. Some of the droplets are actually small soap bubbles ;-)


Government Gardens
A circa 1900 government sponsored spa where people took baths in the natural hot springs was eventually closed due to the high cost of maintenance. All that dissolved sulfur and other minerals worked wonders on the piping and other building materials. It now is a museum with a story of the Rotorua area in Sens-o-round.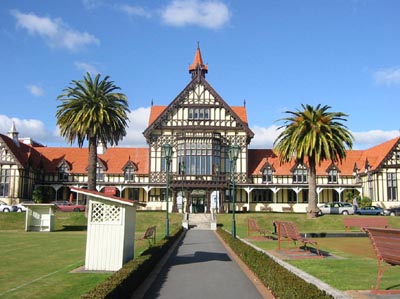 Waitomo
The caves are covered on the ceiling with glow worms, which have blue bioluminescence. Sorry, no photos until you leave the cave...


New Plymouth
We only spent the night here, on our way to visit Mt. Taranaki. We stayed at the aptly named Nice Hotel. If you are ever in New Plymouth, you should stay here. New Plymouth's landmark is the "Wind Wand", which is symbolized by the letter "i" in the Nice logo.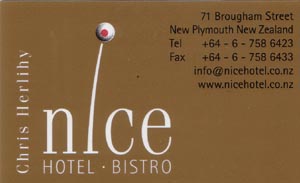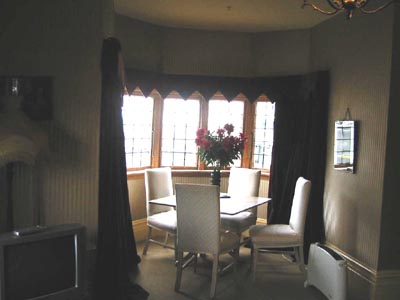 Mt Taranaki
Our primary reason for staying in New Plymouth was to visit Egmont Park, which contains Mt. Taranaki (aka Mt. Egmont).

The inactive volcano is visible throughout the area because of it is a large Mt. Fuji like cone on a large plain.

We did some hiking to visit the falls. It was a strange site to tramp through jungle foliage, while looking up to see snow further up the mountainside.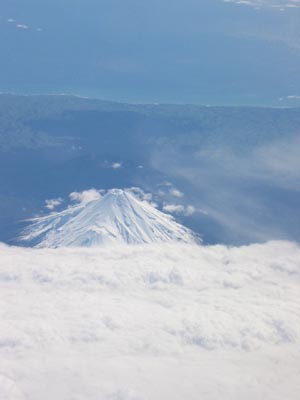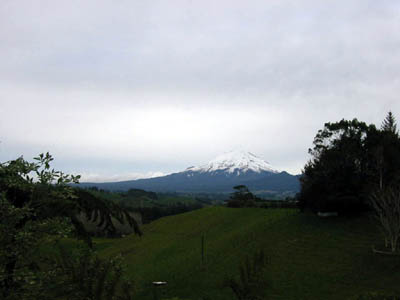 Wellington
Really just passing through. We arrived in Wellington in the early evening and had to get on the Ferry the next day. We had an hour or so to visit the Te Papa museum, which was across the street from the hotel.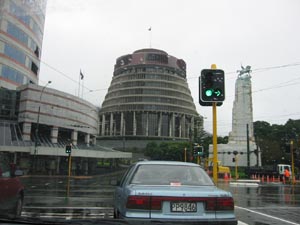 Wellington is the capitol of New Zealand. The "Beehive" as it is known, is one of the buildings used by Parliament (you can visit them at beehive.govt.nz).


Ferry Crossing - "Operation Seasickness"
The weather was not good, the seas were rough, the ride from Wellington was queasy. Fortunately the ship's well stocked gift shop sells "Sea-Legs".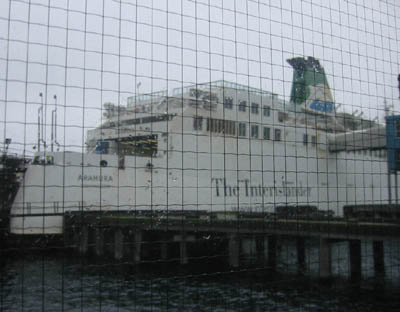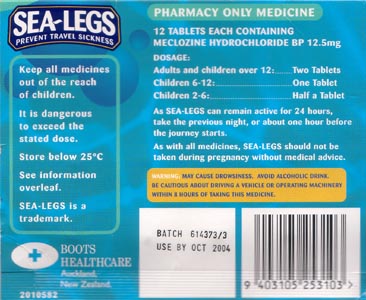 South Island of New Zealand
The ferry dropped us off in Picton, where we picked up a Ford Escape from Hertz for the rest of our time on the South Island.



click on the map for more detail of the South Island and our driving route.


Picton
A walk down main street at 8:00 PM found all establishments closed, including the Irish bar. Fortunately the hotel had a restaurant. The next morning, a tour of the Edwin Fox (wooden ship from colonial times) made us thank our lucky stars for Air New Zealand. Sure, the Edwin Fox had bunks where you could lay down all the way (even in coach AKA steeerage) - but somehow 13 hours versus 3-4 months made us a lot more tolerant.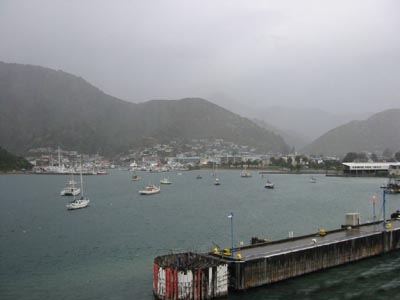 Christchurch
No doubt there's all kinds of stuff to do in the northern half of the South Island, but a constant diet of beaches in the off-season was wearing us down, so we were heading for the snow. Hence onto Christchurch - the biggest city in the South Island. The Christchurch Gondola sucked us in - the name Gondola gave us the pale illusion we were snowboarding,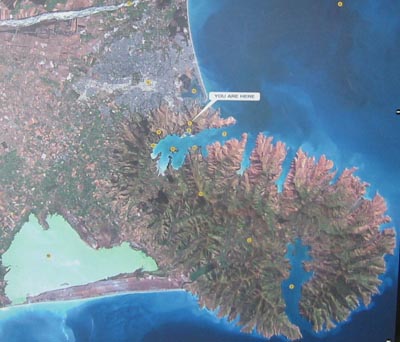 Satellite photo, not our plane.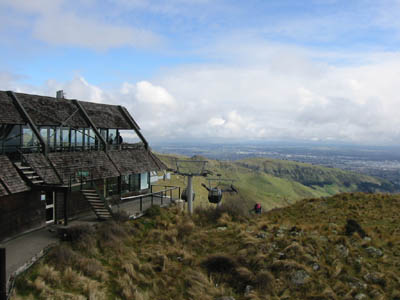 Looking north from "You are here" arrow above.


Willowbank Wildlife Reserve
Our pursuit of a live Kiwi was frustrated once again at the Christchurch zoo. We thought all we might see were stuffed ones...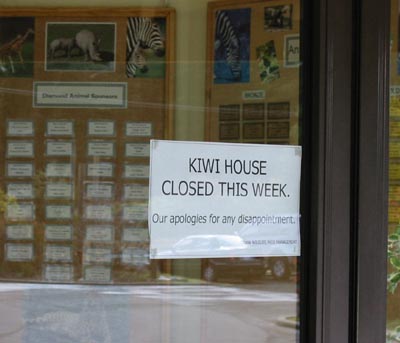 Fortunately we were able to see several and hear their haunting cry, after heading to the Willowbank Reserve. It was a convenient 5 km from the zoo. Sorry no photos of kiwis, kiwis are nocturnal and don't like being photographed... however, Willowbank had many animals more than willing to pose for a photo ...

Getting ready to play hacky sack with a friendly wallaby... And a talking duck, he didn't say anything too memorable, mostly rugby trivia.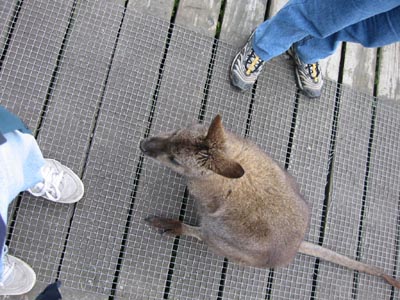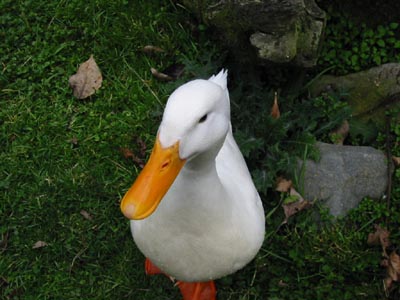 Willowbanks is home of the horse which looks like Flock of Seagulls guitarist, Mike Score.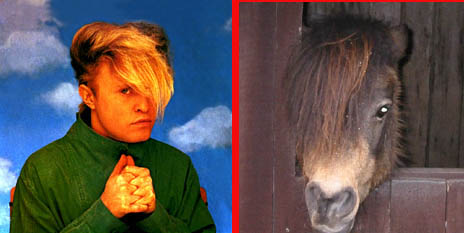 Oamaru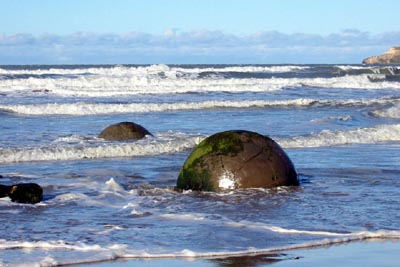 Bowling balls of the gods. And a seeming preponderence of 10-pin alleys in this area. These large natural formations only exist on this small stretch of beach. There once were more, but those which could be carried away were.




Oamaru is home to two penguin colonies, blue penguins and yellow-eyed penguins. The blue penguins arrive en masse at sunset without the help of soap flakes (see Wai-o-tapu), they do however require admission, and don't allow photos without contacting their agent. The yellow-eyed penguins are less numerous and less predictable, but free. The males ply females with the pickup line made famous by Abraham Lincoln, "Hey babe, that's me on the five dollar bill."


Queenstown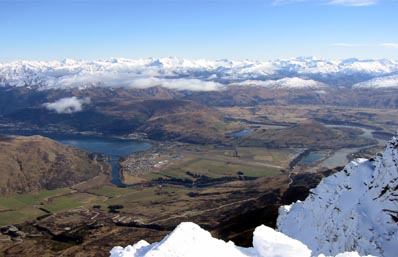 Queenstown is home of many extreme sports. In addition to winter skiing and snowboarding, its many adventures include bugee jumping, jet boating, parasailing, hang-gliding to name a few. We chose extreme mini golf at Caddyshack City, whose elaborate animated models would make any ordinary windmill blush. Now that's good mini golf. There was also bad mini golf...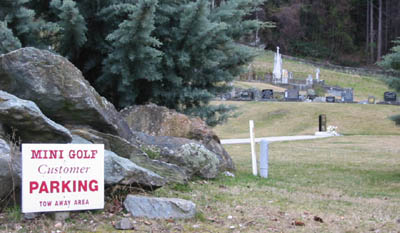 Coronet Peak - "Welcome to Winter 2003"
A rather wet welcome to winter, in the form of steady rain and low visibility all day. A rather discouraging start to four days of snowboarding.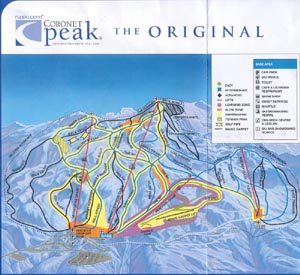 Remarkables
We almost didn't go boarding this day... Coronet Peak was closed due to rain, but Remarkables got 10 cm of new snow! Another 5 cm fell during the day, which made visibility a bit difficult. Still we did spot a snow parrot in its natural habitat.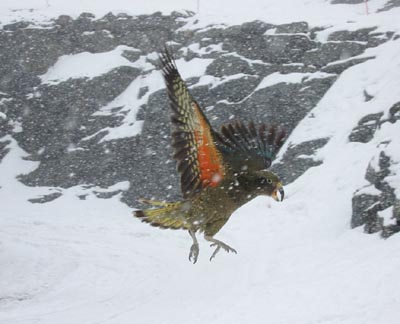 Signs discourage feeding the Kea.

Trail map...

Cardrona
A bit further than Remarkables or Coronet Peak, but worth the exciting drive is Cardrona. It is comparable in size to some of the smaller resorts in California. Perhaps the same size as Bear Valley.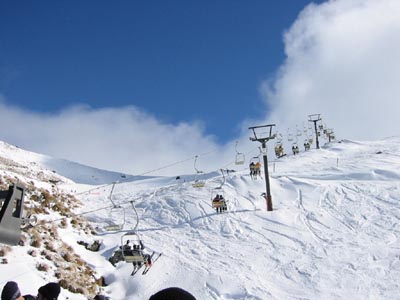 Cardrona trail map.

Remarkables, Day 2
We spent our last day at the closer Remarkables. Another fine day with some wind blown powder. We hiked up to the lookout from the top of the Shadow Basin chair. Awesome views and a nice ride down.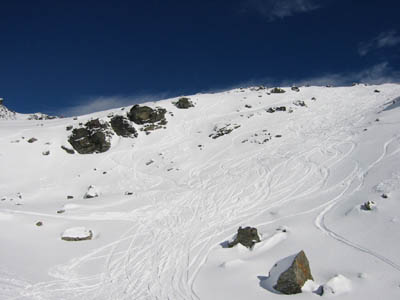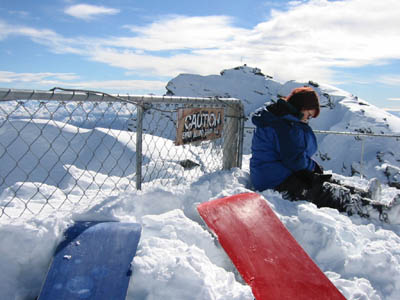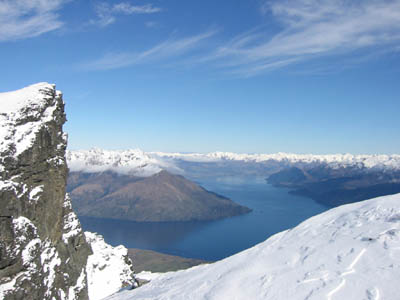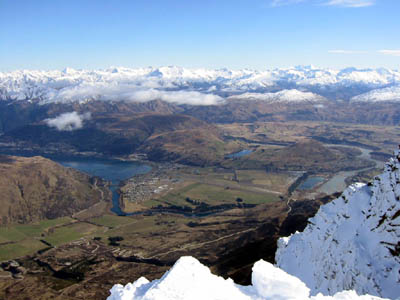 ---
Tahiti - Where's the beach?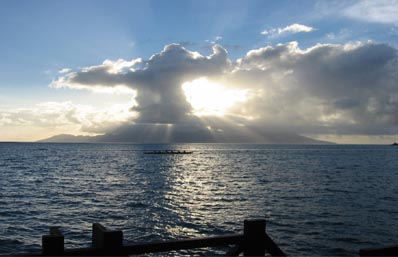 Despite one's mental picture, Tahiti does not have miles of white sand beaches. It does have the lovely blue water and tropical foliage. But feet of beaches are rare, most resorts, including ours simply truck in sand, but arrange it quite attractively. If you look at a postcard shot, what at first appears to be a ring of sand is actually a ring of surf, off the submerged reef which circles the island. Name of our hotel... The Beachcomber... hmmm. The overwater bungalows proved to be the saving grace of our stay in Tahiti. Snorkeling literally out your back door off your private deck is quite a treat. The view off our deck of the island Moorea was always spectacular.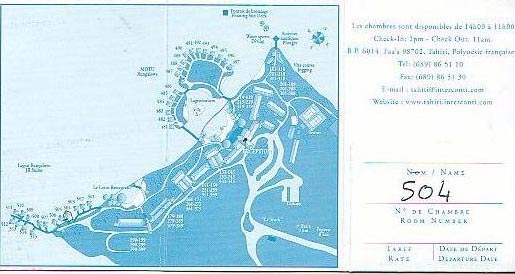 One of the infinity pools. Overlooking the "Lagoonarium".

We rented a car, a Fiat Panda to drive the 120 km circuit around the island. We stopped at the Gaugin Museum, which had some of his possessions and described his life, but no artwork to speak of. At the museum you can warily observe the Tiki which are rumored to have bad "mana." They were moved from another island. Tiki don't like to be moved. In Rotorua, NZ, we saw a strangely modified tiki.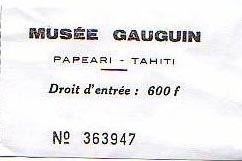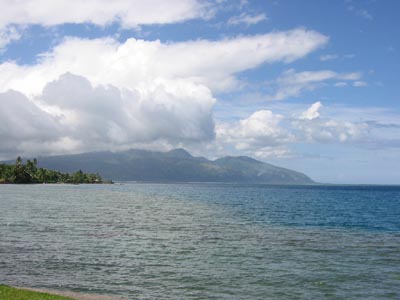 ---
The "Coriolis Effect" - Fact or Plumbing Fraud?
The water in the toilet swirls in the opposite direction depending on whether you're in the northern or southern hemisphere. Right? Well...
(explanation)

Foreign Post and Telecommunication
Why stop with the phone company? Deregulate international postage! Time to play match the stamp with the mail box in New Zealand, home of at least two additional postage providers beyond the New Zealand Post Office.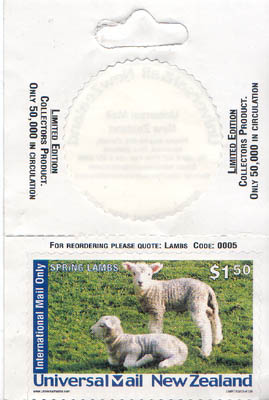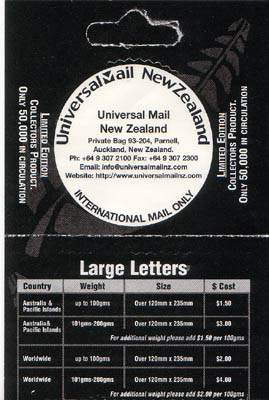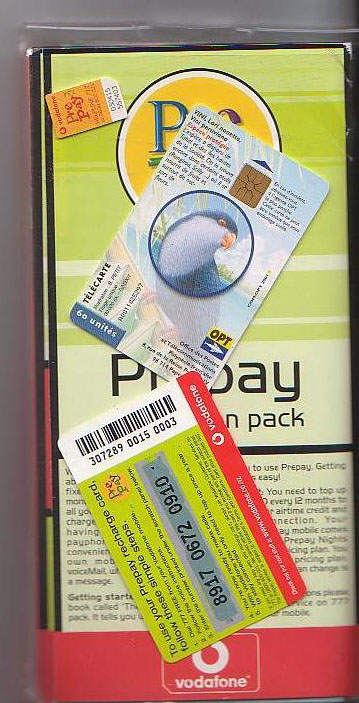 We were able to successfully use our Samsung GSM cell phone with a new Vodafone New Zealand SIM card. "Top up" cards were readily available at most shops.

In Tahiti, the cell didn't work, and the pay phones only allowed special prepay cards. At 1:00 AM upon arrival, the only way to call a cab was to buy a $20 prepay card. This was in keeping with the cost of most other goods and services in Tahiti.


Astronomy in the Southern Hemisphere
After the bust with the Coriolis effect, we decided to look to the skies versus into the toilet.

Acquiring sky charts proved to be difficult, but we finally succeeded as we were leaving Queenstown. The "Southern Cross" is the most noteworthy constellation, but unlike the "North Star" there is no sentinel star which sits at due south.

Constellations in the southern sky were named much later. Some have pretty unimaginative names like the "Southern Triangle". At least they don't have the "Southern Line" and the "Southern Point".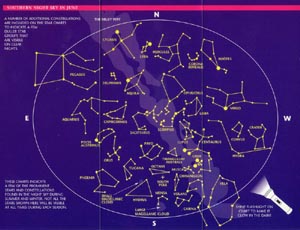 Compare southern hemisphere chart to a 1970's vintage northern hemisphere star chart, from Jeff's boy scout days.

Sheep
Yes, New Zealand is crawling with sheep, 30 million sheep vs. 4 million people. Driving through the countryside you see flocks of sheep in most fields and on hillsides.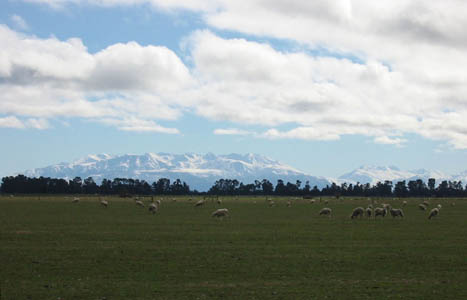 Languages
The New Zealand accent can best be demonstrated saying the phrase:


Get a fantastic deal on aluminum penguins at our website penguin.co.nz. Order now and get a free Chicken and Veg Pie.
[Listen]

Still it's pretty easy to understand.

Here's a NZ English to US English translation guide on the web.

Maori is the other offiicial language of New Zealand and there was Maori programming on television. Many cities have Maori names like Rotorua, Waitomo and Queenstown.

We saw a fair number of Japanese and Korean visitors, mostly travelling in bus tours. At a Korean/Japanese restaurant in Christchurch, we had our absolute worst beverage of the trip, Bek Se Ju, some sort of rice wine. It tasted more like a salad dressing with plenty of vinegar and salt overtones. Utterly undrinkable.

Tahiti is part of French Polynesia and French is the offiicial language, although most people at the hotels and restaurants spoke some English. The other common language is Tahitian, a Polynesian dialect similar to Hawaiian and Maori.


Driving
Although driving on the left side of the road took some getting used to, the abundance of "Give Way" one lane bridges proved to be the most challenging aspect of driving in New Zealand.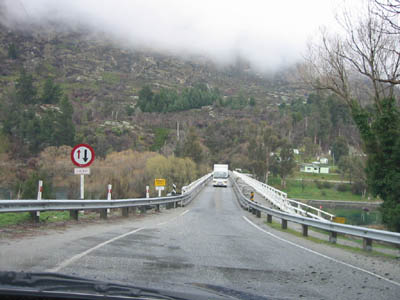 ---
September 6, 2003