[Back to Inetpix] [Just the pix...]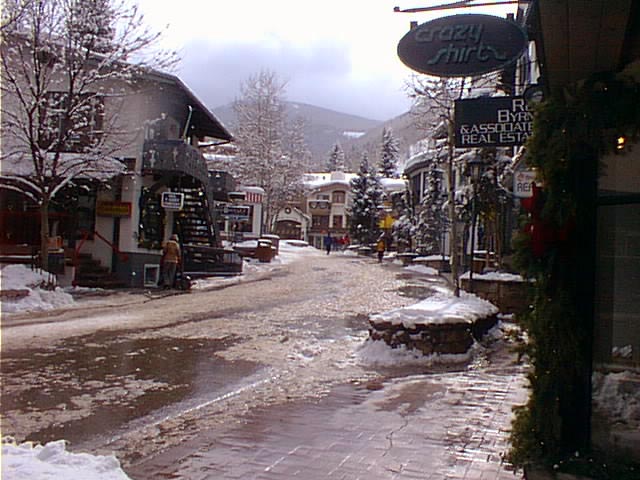 Vail Village
A fine place to ski, but I wouldn't want to live here.

Vail Village has a sort of surreal Disney quality to it. The pedestrian mall has lots of restaurants, bars and shops. There appear to be a lot of rich folks who just come here to shop and display their furs. All the establishments seem to have on their walls at least one photo of former President Gerald Ford.

I think the Saab 9000 Patrol Cars sort of sum it up.

A Bit of Bad Luck
My less than glowing summary of Vail may be colored by the fact that I broke my ankle the first day here...

This did provide an opportunity to hang out on the onslope bar, Los Amigos and meet a few folks.

Other Diversions
We went dog sledding one day. The sights, the sounds, the smells!

On our last day we went on a guided snowmobile tour. We managed not to sustain any additional injuries despite the fact the snowmobile got rolled.

Last Day
Against medical advice I squeezed my swollen foot into my snowboard boots and Heather and I did some boarding on Friday (my accident was on Sunday).

This was the second day in a row with over 6 inches of fresh snow and since it was our last day, I felt I had to try.

Boarding proved interesting, I could turn with my heels towards the mountain, but not with my toes. Not a style of boarding I would recommend, but I got in several runs including some ungroomed black diamond trails!
Sitzmark
We stayed at the fabulous Sitzmark Lodge. I believe Sitzmark is what you leave behind after you fall skiing, but I could be wrong. If I am right, there is more irony than I thought.

The room here is quite nice, with a fireplace and a view of Gore Creek. It's right in the middle of Vail Village . The nearest lift is about 50 yards away, and there's a heated outdoor pool and jacuzzi on the roof.